Many people overlook the ceiling when it comes to bathroom design, using it as nothing more than a dull white canvas. But in reality, the ceiling is a fifth wall you can decorate, transforming your bathroom into something more special. The renovation can be quick and easy, too.
There are many ways to redecorate your bathroom ceiling. You can use bold colours, tasteful tiles or intriguing lighting – you just need to make sure the material is moisture-resistant.
That's where we can help. We've selected the most stylish and practical bathroom ceiling ideas to help inspire your next project.
Ceiling bathroom lighting ideas
Ceiling lights orchestrate the mood inside the bathroom, providing relaxing warm hues or refreshing white rays. They're important features in every bathroom. Below, we've included a variety of bathroom ceiling ideas, from low-hanging pendants to dimming lights flush to the ceiling.
1.
Source: Decor Pad
Get a FREE Brochure
Simply complete our form to see a full range of bathing solutions & their key features. It takes no time at all!
If you want a contemporary bathroom ceiling feature, you ought to consider pendant lights. They're typical of modern or Scandi-style bathrooms, giving your bathroom a subtle edge you won't find in many homes.
2.
Pexels: Ksenia Chernaya
This bathroom design idea proves the power of symmetry. You can use just two lights to create a memorable bathroom ceiling design, while the shape of these lights is unique, stylish and understated.
3.
Source: Johnathon Gooch
This is one of the most popular bathroom ceiling lighting ideas. Rather than one statement bulb, you can opt for a constellation of ceiling lights that evenly brightens the entire bathroom. You can also install dimming light switches to switch up the mood – from bright and refreshing to warm and relaxing.
4.
Source: Melanie Lissack Interiors
If you believe that less is more, you should consider a centrepiece ceiling light for your bathroom. Standing alone, this type of light is ideal for classic or Victorian bathrooms, bringing a sense of elegance to the large ceiling. We also love the light's gold trim contrasting with the dark ceiling paint.
Small bathroom ceiling ideas
Naturally, small bathrooms have less ceiling space than larger rooms. But that doesn't mean you can't redesign your ceiling into a fifth wall that packs a punch. Meanwhile, if your small bathroom has limited natural light, like many do, you can install a skylight to brighten up the entire room.
5.
Source: Contemporist
This bathroom ceiling idea uses skinny wooden slats, typical of Scandinavian bathrooms. If you have a small bathroom and enjoy the sauna aesthetic, this is an excellent way to redesign your ceiling. It's cosy and stylish, which is the perfect package.
6.
Source: Terroti Interior Design Studio
Adding a skylight is an effective and stylish way to bring more natural light into your small bathroom. However, in terms of renovations, this project would be more time-consuming than simply installing light bulbs, but it's worth the extra effort. Remember, natural light can also help lift your mood and cut electricity bills.
7.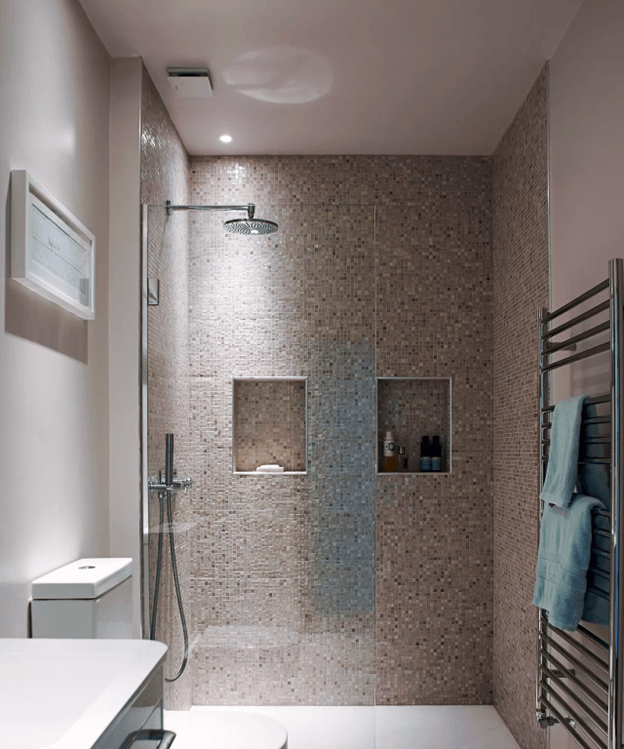 Source: Jonathon Gooch
You can turn the smallest bathroom into a smart, stylish space with a coating of luxurious paint on the ceiling. We'll discuss dark bathroom ceiling ideas in more detail below, but this is an excellent example of how to make the most out of limited ceiling space.
Bathroom ceiling tile ideas
Bathroom tiles aren't just for bathroom walls. They can add personality to floors and ceilings, and we've selected some beautiful bathroom ceiling tile ideas below.
8.
Source : Fireclay Tile
Blending wall tiles into the ceiling will create a striking bathroom ceiling design. For higher ceilings, we recommend using small tiles because large or heavy alternatives will be more difficult to install.
9.
Source: Andrea West Design
We love this bathroom ceiling idea because of its unique take on tiling design. Combining different ceiling tiles can be tricky to get right, but as long as you go for typical bathroom colours, such as blue and white, you should end up with a truly memorable bathroom ceiling.
10.
Source: Nathan Waters
If you want a shiny, spa-like bathroom, then you can choose water-resistant tiles for your ceiling that match your floor. This type of renovation project wouldn't be as straightforward as simply painting your ceiling, but the result would be worth the wait.
Sloped ceiling bathroom ideas
Sloped ceiling bathrooms are common layouts. These types of bathrooms are typically renovated lofts and can be designed to suit any style, from contemporary to farmhouse. Check out our top picks below for some inspiration.
11.
Source: Davide Lovati
If you're lucky enough to have traditional timber frames inside your home, we recommend you keep them visible in your sloped ceiling bathroom. They're beautiful and can be used to enhance the farmhouse feel, particularly when paired with neutral tones of beige and dark brown.
12.
Source: Max Kim Bee, courtesy of Leanne Ford
With slanted roof bathrooms, the shower enclosure is somewhere you can play with different materials. For example, as this bathroom ceiling idea shows, you can combine wooden panels with vintage tiles on the slanted roof to create a stylish shower area.
Modern bathroom ceiling ideas
No list of bathroom ceiling ideas can go without some modern mentions. After all, it's one of the most popular design trends, focusing on minimalist layouts, neutral tones and straight lines.
13.
Source: Regency Tilers
Using a long strip light can give your modern bathroom an edge, especially when placed above the vanity area. This bathroom also combines an under cabinet light for added symmetry, which is key to modern design.
14.
Source: Archello.com
If you want to spruce up the white ceiling in your modern bathroom, we recommend using a monochrome palette. As this bathroom ceiling idea shows, you can turn your ceiling light shades into another black element inside your white bathroom – alongside the black shower screen frame and piping.
High ceiling bathroom ideas
When it comes to high bathroom ceilings, you ought to keep the redesign quite simple. It'll prove quite difficult otherwise. However, simple doesn't mean boring – as you'll see from our high bathroom ceiling ideas below.
15.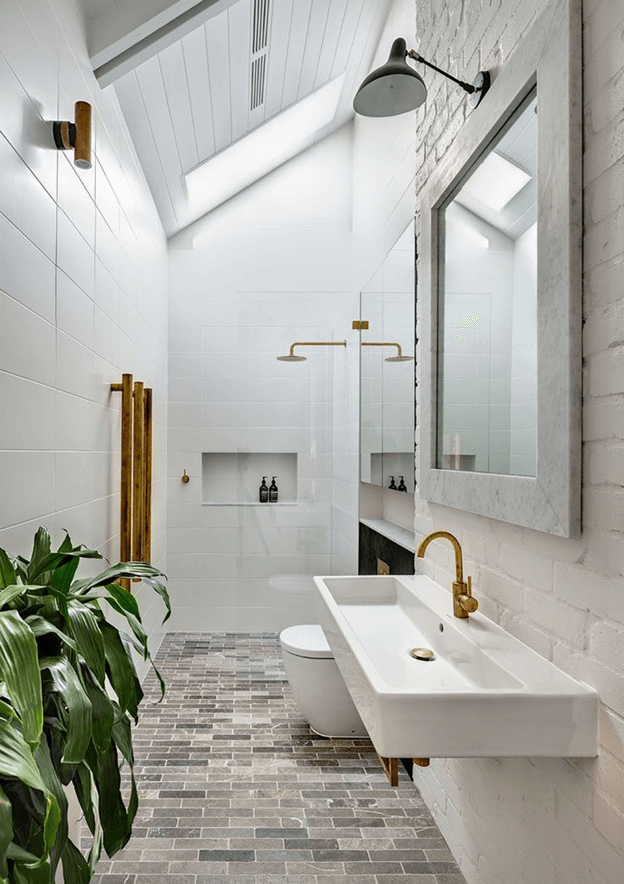 Source: Murray Fredericks
If your bathroom has a high ceiling, you should make the most of the generous space with white tiles or panels to make your bathroom feel even bigger and brighter. You can also install a skylight for added natural light.
16.
Source: Bjurfors
Using multiple timber frames is an excellent way to make your bathroom feel more Nordic or Scandinavian. Reminiscent of Viking halls, this bathroom ceiling idea combines Scandi minimalism with vintage wooden furniture.
17.
Source : DecorPad
If you want lots of natural light, you can install windows high up on the walls instead of the high ceiling, just like this bathroom ceiling idea. But for decorating the ceiling itself, you can use a singular light as your centrepiece.
Vaulted bathroom ceiling ideas
A vaulted ceiling angles up towards the roof, reaching higher than most bathroom ceilings. It's a popular bathroom ceiling design and can help bring in more natural light. If you're constructing a new bathroom from scratch, then a vaulted ceiling will likely cost more than building a regular ceiling that measures eight to ten metres high. That said, vaulted ceilings are simply stunning.
18.
Source: Rafael Soldi
This bathroom ceiling idea combines different materials for its vaulted design, with white paint hanging over the floor space and white tiles above the walk-in shower enclosure. It's a subtle contrast, but it helps differentiate the bathroom areas nicely. Overall, it's a very classy bathroom.
19.
Credit: Emily Morrison
If the previous bathroom ceiling idea was subtle, this one is anything but. If you love bold centrepieces, then this type of vaulted ceiling would be ideal, with the magnificent chandelier drawing your gaze upwards.
20.
Source: Allan Edwards Builder Inc
Vaulted ceilings look impressive, which is why they're commonly used in opulent bathrooms. This type of ceiling adds space and a sense of grandeur to the room, and – If you have the budget – you can go for large timber frames and ceiling lights, combined with ceiling-height windows for a bright and beautiful bathroom.
Painted bathroom ceiling ideas
Painting your bathroom ceiling is an easy and inexpensive way to make your bathroom stand out. Of course, we don't mean painting it white. There are many different colours you can use to create a statement ceiling. Be careful, though – you need to pick a paint that's designed specifically for bathrooms, otherwise you risk it peeling away with the moisture.
21.
Source: Roman and Williams Design
Blue has long been used in bathrooms thanks to its calming, aquatic tones. It also looks good when contrasting with white tiles, which is one of the most common bathroom designs. If you have a low ceiling like the example above, then you don't want to paint your ceiling in a colour that's too dark, which could end up feeling claustrophobic.
22.
Source: Laura Metzier Photography
On the other end of the colour scale we have this light tan ceiling. This colour is a good option if you want your bathroom to feel like a terracotta-clad villa. It also pairs well with wooden elements, such as shelves and cabinets – ideal if you want a rustic-style bathroom.
Dark bathroom ceiling ideas
Painting your bathroom ceiling in dark tones can make the room feel richer and more luxurious. Remember, dark doesn't mean depressing. In fact, turning your bathroom ceiling into a darker statement piece can help it stand out among the everyday white bathrooms.
23.
Source: ChloeDominik.com
If you have white tiles on your floor and ceiling, you can paint your ceiling in a dark tone without the bathroom feeling remotely dingy. Dark ceilings can actually turn your bathroom into a modern, stylish and relaxing area for your everyday washing routine.
24.
Credit: Albert & Moo
You can use a large white light against your dark ceiling to brighten up the colour scheme. But in terms of design, what we recommend most from this example is pairing a black tub with the ceiling. It's stunning.
25.
Source: Next Luxury
This bathroom ceiling idea is further proof that blue and white marry well inside the bathroom. With the dark blue ceiling and bright white walls and furniture, combined with a generous window, you have a classy bathroom that should stand the test of time.
Roundup
There are many unique ways to transform your bathroom ceiling into a beautiful showpiece, from using bold paint to eye-catching tiles.
With our list of bathroom ceiling ideas, you should now have the inspiration you need to take your ceiling to the next level.