Wet rooms are the ideal solution for disabled users, transforming bathroom difficulties into a more seamless experience. There are no steps, tubs or shower doors to navigate – just an open-planned space that's customised to the individual's wants and needs.
80% of falls at home happen in the bathroom. That's why it makes sense to consider a disabled wet room or disability bathroom in general, complete with additional assistive products such as grab bars and non-slip mats. However, disabled wet rooms can be practical and stylish.
This article will explore the best disabled wet room ideas. We'll discuss a variety of design ideas and different disabled wet room layouts, giving you the inspiration you need to create the most suitable, supportive and stylish wet room possible.
Get a FREE Brochure
Simply complete our form to see a full range of bathing solutions & their key features. It takes no time at all!
Modern disabled wet room ideas
The modern disabled wet room is sleek in design but doesn't sacrifice practicality. Normally characterised by minimalism, clean lines and neutral colour palettes, modern wet rooms are one of the most popular options because they can be personalised so easily.
For example, with a variety of contemporary grab bars, shower seats and shower heads to choose from, it's never been easier to add a modern touch to a disabled wet room. With modern wet rooms, you can also use fake dimmed bulbs or simple, natural light to create an atmosphere to suit the needs and tastes of the user.
1.
Credit: RichKin
Modern disabled wet rooms have clean lines, neutral tones and minimalist tiles. Even the sleek drainage in this example feels modern. As this wet room shows, you can find sleek grab bars that double up as towel rails, adding support without making the wet room feel cluttered.
2.
Credit: C.P. Hart
One of the easiest ways to create a modern disabled wet room is by installing chrome grab bars and fold-out seating. This style is typical of contemporary bathrooms, offering a sleek and shiny touch to an otherwise minimalist wet room.
Luxury disabled wet room ideas
With the right instalments, disabled wet rooms can be luxurious without breaking the bank – or sacrificing accessibility. For instance, you can use built-in benches, marble-effect tiling, or rainfall shower heads to add sophistication to a regular wet room. If you have the budget, you can of course use real marble to create the luxurious wet room of your dreams.
Another idea is to use stone slab flooring, which is one of the most luxurious and naturally non-slip materials you can find. For more inspiration, see our luxury disabled wet room ideas below.
3.
Credit: Sammy
Providing stylish seating with its built-in bench, this disabled wet room idea perfectly balances accessibility with luxury. Whether it's stone or marble-effect tiles, you can transform a regular bathroom into an impressive, slip-resistant showpiece.
4.
Credit: Houzz
Opting for dark tones, this luxury disabled wet room uses high-quality materials and stylish alcove storage to great effect. There's plenty of floor space for easy access, while the floating sink is ideal for wheelchair users.
Small wet room ideas for disabled people
You can transform even the smallest space into a disabled wet room that ticks the right boxes. For example, you can simply waterproof the floor, install a shower head and affix the appropriate mobility aids to create a beautiful wet room that maximises the limited floor space.
Alternatively, you can splash out to create a small but mighty wet room that provides all the right support, whether it's an ensuite or a downstairs bathroom renovation. Below, you'll find some of our favourite small wet room ideas for disabled people, optimising limited space to create a safe, comfortable and beautiful part of the home.
5.
Credit: Ohhfleur
The toilet roll holder doubles up as a grab bar, while the small shower enclosure is easy to access. With this disabled wet room layout, you're maximising space inside a regular bathroom while maintaining accessibility.
6.
Credit: MotionSpot
No matter how small your bathroom is, you can build an accessible wet room that feels stylish and modern. As this disabled wet room idea shows, you can use a simple fold-out seat with accompanying grab bars to provide support at the tightest angles.
Spa-like disabled wet room ideas
Spa-themed bathrooms are the pinnacle of comfort and luxury. In disabled wet rooms, spa-like features can turn everyday washing routines into more enjoyable experiences.
For example, spa-like wet rooms usually have multiple shower heads, offering a variety of water stream pressures to help the user relax and wash in different ways. From gentle rainfall shower heads to sturdy jet streams, spa-themed wet rooms are accessible and atmospheric in equal measure.
7.
Credit: Houzz
Though technically a walk-in shower with its glass partition, this spa-like fitting should still inspire your next wet room. It provides plenty of support, with both vertical and horizontal grab bars, while offering a variety of jet streams to help the user wash and unwind in a true spa-like style.
8.
Credit: Wendy Smith Real Estate
To achieve the spa-like aesthetic, you can install multiple shower heads and transform taps and soap holders into stylish grab bars. This disabled wet room idea also uses calming tones for its tiles, which is essential for relaxing.
Large disabled wet room ideas
Big or small, accessible wet rooms are the ideal bathing solution for disabled people, offering easy access, lots of wall space for grab bars and minimal cleaning maintenance compared to regular shower-over-baths.
However, large disabled wet rooms are particularly accessible, offering more floor space to wash safely and comfortably. Meanwhile, these larger spaces are more suitable for wheelchair users who might need a little extra space. As you'll see from our disabled wet room ideas below, you can make the most of a large space without overspending.
9.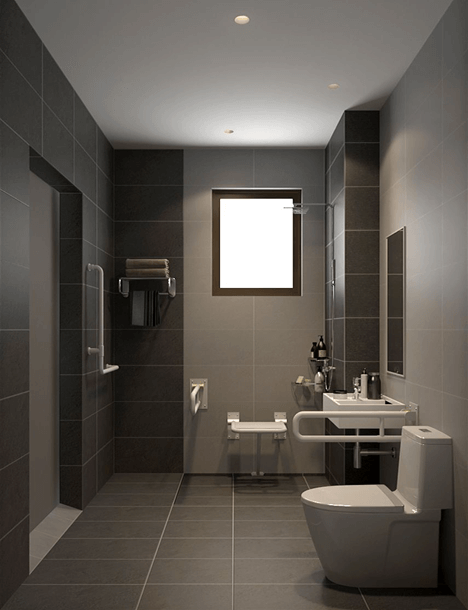 Credit: Ice Chen
This bathroom has a high ceiling design and spacious flooring, offering the perfect disabled wet room dimensions. Of course, large bathrooms have longer distances between the toilet, shower and sink, which is why it's important to install an appropriate number of gab bars throughout.
10.
Credit: Motionspot
The focal point of this large wet room is the seat – it has symmetrical grab bars and blends in nicely with the greyish-blue tiling. This is the perfect example of maximising your large wet room's potential with minimal adjustments.
11.
Credit: Lame Black Lamb
In some cases, the most traditional colour schemes will work best for your large disabled wet rooms. That is white tiles with chrome support bars. With so much floor space to cover, it makes sense to choose simple, affordable materials that still look stunning.
Disabled wet rooms ideas with decorative tiles
Unlike regular shower enclosures, you have more walled areas to decorate inside wet rooms. You should see this as a creative opportunity. Rather than opt for simple layouts, why not choose decorative bathroom designs to create a disabled wet room that truly shines?
Whether it's a colourful statement wall or a strip of contrasting design across the floor, you can use tiles to add your personality. As with any accessible bathroom, you should always opt for naturally non-slip materials, such as ceramics or stone. Alternatively, you can use non-slip mats.
12.
Credit: DesignExtra
With contrasting colours and materials, this is one of the most impressive wet room ideas for disabled users on our list. The green tiling is simple but beautiful, offering a clean look that stands out more than regular white tiles.
13.
Credit: AipRemodeling
You can use marble-effect tiling with mosaic strips to create a Roman-bath inspired wet room. The dark mosaic lines bring your eyes upwards, making this relatively small wet room feel a little bigger, while the golden tiling makes the perfect backdrop for the dark, modern grab bars.
Disabled wet room flooring ideas
The floor is often overlooked when it comes to bathroom design. However, we believe it serves more than just drainage purposes – it's another canvas for you to show your personality or specific tastes.
Of course, the wet room floor must remain non-slip and comfortable, minimising the risk of falls. With our disabled wet room flooring ideas below, you'll see how you can transform an ordinary drainage area into a stunning centrepiece that provides all the right support.
14.
Credit: Wetrooms Online
Eye-catching and unique, this flooring has a wooden effect that helps create a natural decor inside the wet room, especially when paired with the delightfully dulcet stone tiles. We also love how the decorative floor combines splashes of white, which matches the bench and towels, with elements of brown.
15.
Credit: Ceplukan
This flooring is simple yet effective. Stone is a naturally non-slip material, which is ideal for accessible bathrooms or wet rooms for elderly users, but the colour also contrasts nicely with the pale wall tiles. This wet room proves why monochrome decor is so popular, offering a timeless aesthetic.
16.
Credit: Pam Rockwell
This disabled wet room flooring idea uses contrasting tile sizes and tones, balancing brown tones to create an eye-catching space. Meanwhile, the smaller floor tiles provide more grip than large slabs, which makes it the perfect disabled wet room layout.
Disabled wet room ideas with natural light
If you want a bright and airy wet room, or you want a small wet room to feel bigger, then natural light is the best solution. From a human perspective, daylight in the bathroom can support biological functions and make the wet room feel more invigorating.
Windows or skylights also make it easier to ventilate the wet room, which can help create a safer, cleaner bathing experience. Of course, you can pair natural light with accessible light switches to illuminate the bathroom in the evenings or early mornings.
17.
Credit: ArchiExpo
To maximise the bright and airy feeling you get from natural light, we recommend using white paint or tiles in the wet room. While this disabled wet room idea has contemporary elements, you can also use natural light in traditional or Victorian-era wet rooms to great effect.
Budget-friendly disabled wet room ideas
Being budget-friendly doesn't mean being basic or boring. That's the beauty of wet rooms. You can create a safe, stylish and future-proof wet room without splashing out.
Forget about bells and whistles, you simply need slip-resistant flooring, easy-clean wall panels and access to the shower head, which can all be found within budget-friendly price ranges.
18.
Credit: Medley
This is the perfect example of a cost-effective design. It has just two grab bars, plan wall tiles that are easy to clean and a simple yet stylish stool with non-slip legs. In short, this wet room is simple, supportive and relatively stylish.
Creative drainage ideas
The most impressive wet rooms take advantage of every single element. From the partition to the drain, you can use these features to create a stylish focal point that still serves an important function. Whether it's a thin strip or a circular drain in the heart of the floor, the drain is more than just a funnel for escaping water.
19.
Credit: Pipe Wrench
Ideal for modern wet rooms with their clean lines, using a thin strip as drainage can help you create a contemporary yet highly-functional feature. This clever drainage idea is also symmetrical with the adjacent grab bars, which helps create the modern aesthetic.
20.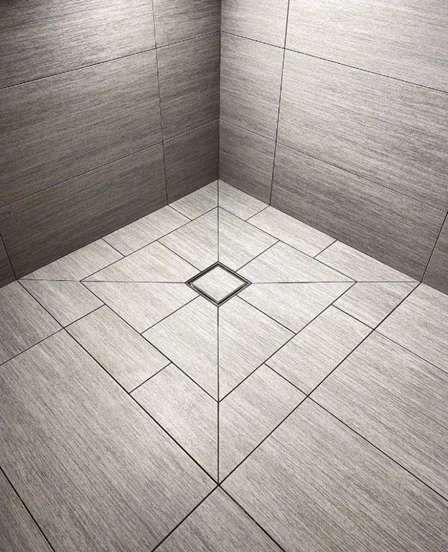 Credit: Civil Engineering Discoveries
This disabled wet room idea cleverly uses gravity and grouting to create an eye-catching drainage area. Each tile funnels the water down the square drain, which in itself is beautiful to look at. This is the perfect example of fabulous yet functional.
Roundup
Wet rooms are the most accessible solution to bathing difficulties, reducing the risk of falls while offering more space for changing mobility needs. But that doesn't mean they can't be luxurious or beautiful.
For example, you can use sleek grab bars that double up as soap holders, or you can use non-slip marble effect tiles to create a luxurious, spa-like enclosure. With our list of disabled wet room ideas, you should have all the inspiration you need to elevate your wet room without sacrificing comfort or support.